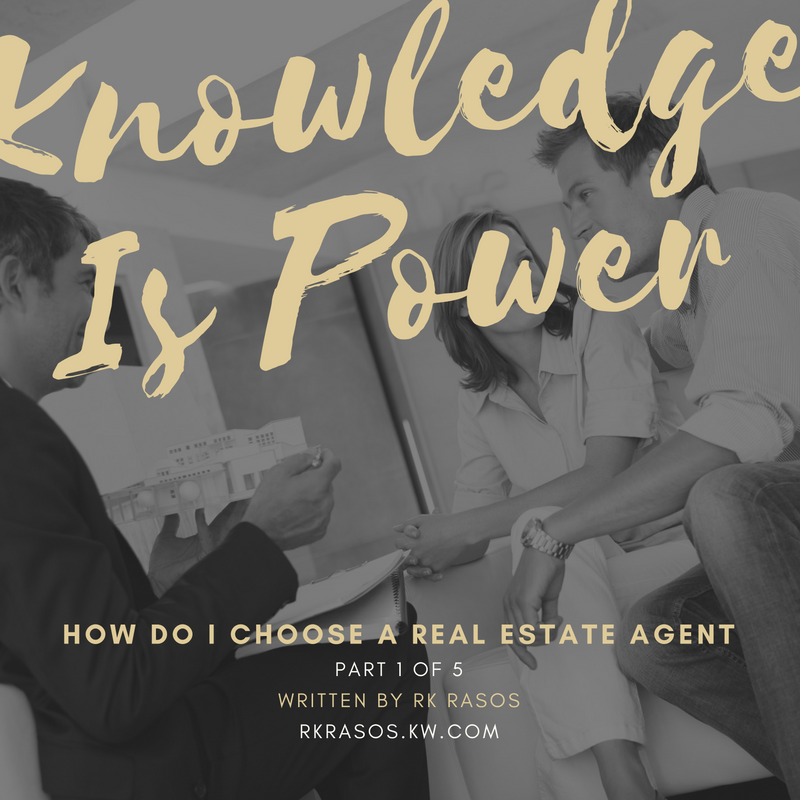 "How do I choose a real estate agent?"
This is one of the most common questions that could be asked by someone looking to buy or sell real estate. The real estate agent is one of most important people to factor in your real estate transaction. Your real estate agent serves as your right-hand man, the answer to any questions you have, and the guide to a smooth process. They will be helping you with one of the biggest decisions of your life, so it's very important that you take the time to make sure you choose the right agent. Here are few things that you should take into consideration before signing that listing agreement or buyer's representation agreement.
Interview multiple agents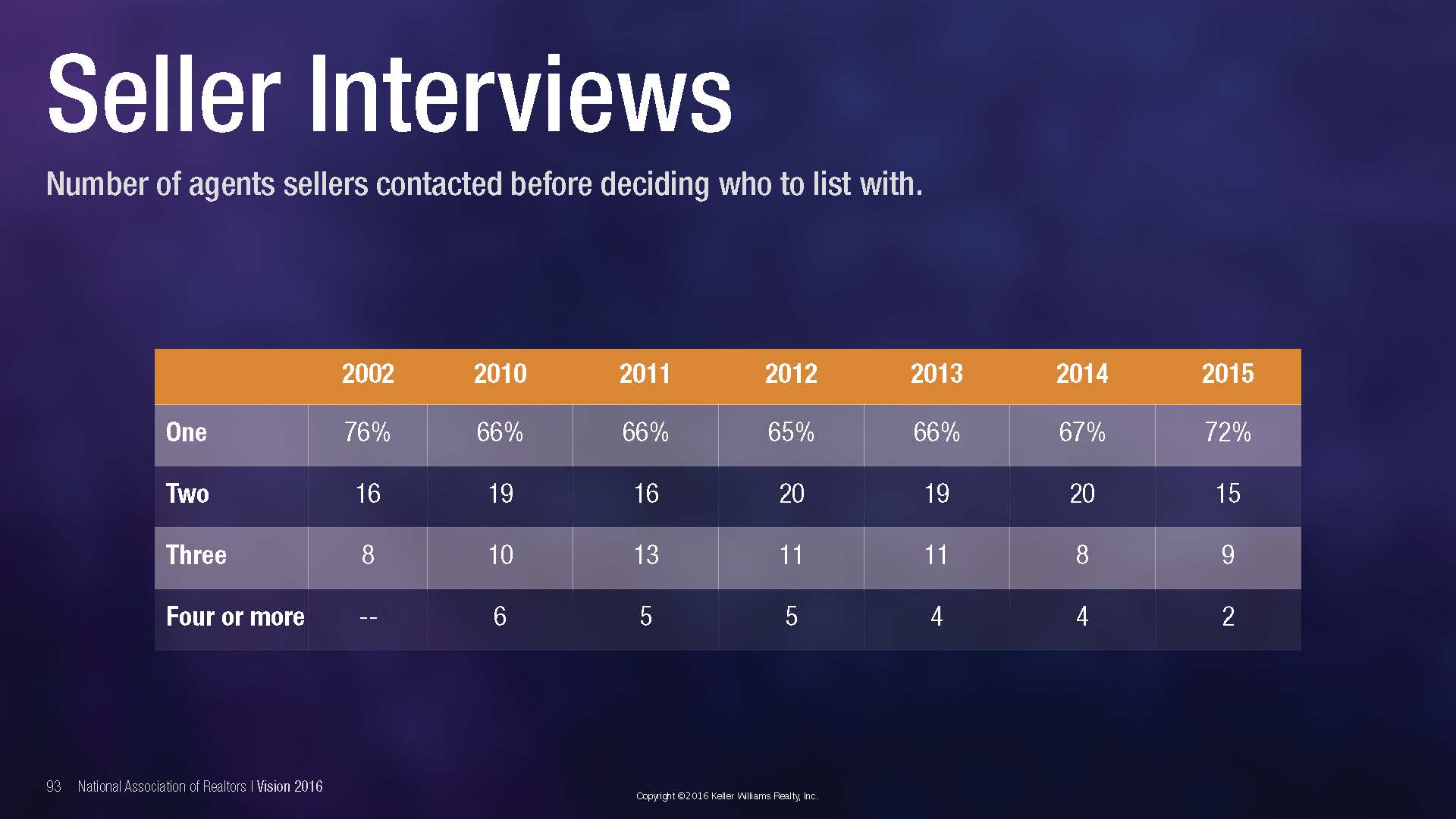 The picture above shows that a majority of people use the first agent that they speak with. It may be time-consuming to speak with multiple agents, but you could be missing out on a better agent if you don't do so. Each agent has their own value proposition, and it's best to compare multiple agents to ensure you're picking the best one for the job. After reading this article, check to see which agents you interviewed will fit the bill.
Do they have a reliable brand?

Do you recognize the brand. Big-name brands usually indicate a wider reach. An agent from firms like Re/MAX or Keller Williams will have a larger network of colleagues. Many of the larger firms are international, and allow an agent from that brokerage to get in touch with more agents. The larger brands also provide marketing tools that many other brokerages don't.
This doesn't mean you shouldn't go with a small firm. Those agents may have access as individuals. It's always good to make sure with agents who are part of the smaller firms.
Don't let age and years in the industry fool you!

Of course it may seem best to pick an older agent who has had a license for 10+ years, but sometimes it is not. An agent may have been in the business for a long time, while only doing 3-4 transactions a year. Always make sure you consider their market knowledge and expertise before looking at how many years they've been licensed.
Do they have market knowledge?

The right agent will be up-to-date with their market. Agents are more than people who list properties and sign documents. Agents are consultants who should know the ins-and-outs of the market. Here are a few questions that you can ask an agent when interviewing them:
– What type of market are we in?
– Which homes sold in my area?
– How long does a home usually stay on market in my area?
– Who is buying in this area?
What is their commission?
Thisis important because their commission is almost always directly related to thetype of agent they are. It's always important to be careful with discount andflat-fee brokers. Do not expect much help from an agent who is willing to takea paycheck cut to work like a retail agent. Because their returns are veryminimal, you may have a subpar product or you may have to do a lot of the workyourself. Unless you're familiar with the premier techniques agents use tomarket, it may be a very difficult process. If an agent isn't willing tonegotiate for their commission to close a deal, they probably won't be willingto negotiate that hard on the home sale.
With that said, just because an agent charges a premium commission, doesn't mean they will be the best for the job. Always make sure they fit all the criteria.
What is their marketing plan?

Asavvy agent will have multiple streams of marketing techniques. The savvy agentshould be using different types of online marketing and print marketing. Thereare so many ways to market a home, and as a professional, it is the agent'sfiduciary responsibility to have their clients' best interests in mind. Theyshould be willing to spend their own time and money to ensure your house is the bestcomparable product on the market. If they're simply going to put it on the MLSand pray someone will buy it, that is not going to cut it.
If it doesn't seem like they have a solid marketing plan, it'd be best to find an agent that has a system that will get your home sold for top dollar.
Do you feel comfortable working with this agent?

While the numbers are very important, it's also important to feel comfortable around your agent. A real estate transaction can range from a month to a year. Your real estate agent will be a close friend of yours for that period and usually after the transaction has closed. While it isn't as necessary to like your real estate agent, the process will be a lot smoother if you're comfortable around your agent. Feel free to ask personal questions about hobbies and family life. While it's not an agent's job to give out that information, it doesn't hurt to ask.
What makes this agent different?

Many agents may pride themselves in negotiating skills, marketing, technology, or market knowledge. Each agent has a certain combination of all of these skills. If you're stuck with agents who all seem very similar in skillset, look for the agent who is different.
A good agent will have a value proposition that sets them apart from others. There are agents who have larger networks. There are agents who are charitable and give back part of their commission. There are agents who hustle more.

Conclusion

After carefully reading the article, you should be ready to interview agents efficiently and find out who has the skills to get your home sold for top dollar! If you have any questions about real estate and picking the right agent, please feel free to contact me.
Stay tuned for part two of the Knowledge is Power series by following me on Facebook!